June is Bike Month in the state of Colorado and once again, the City of Colorado Springs and a host of engaged partners are looking to fill the month with activities sure to appeal to your pedalin' interests!
Find out more about Community Rides, tools and resources to go exploring on your bike, and other ways to get involved not only through the month of June but year-round as bicycles are a great mode for both recreation and transportation in many areas of our region.
This Thursday, June 2nd join Bike Colorado Springs as they host the Bike Month Kickoff party at FH Beerworks, conveniently located at the east end of the Rock Island Trail. You can join TOSC staff member Allen Beauchamp as he pedals out to the event at 4:30 from STIR for a very casual 6.2 mile spin out to the venue.
Save the date for Bike to Work Day, Wednesday June 22nd. TOSC is spearheading the collaboration between the COS Sustain-a-Center organizations and we'd love for you to pedal on by on your way to work and enjoy coffee and a breakfast snack from our station sponsor Switchback Coffee Roasters. Rumor has it that you'll once again be able to enjoy a pancake fresh off the griddle flipped by none other than Susan Davies, our talented Executive Director!
North Cheyenne Canyon Road Opens
North Cheyenne Canyon Road in North Cheyenne Cañon Park will reopen to park visitors starting June 4. The road has been closed to visitors since September of 2021 while three historic bridges were reconstructed to address public safety. Masonry and other finishing work on the bridges will take place through the end of June. Park visitors should be aware of the possible occasional weekday use of flaggers and construction equipment on and around the bridges. Some parking areas will remain closed while work around the bridges and the Mount Cutler trailhead completes. This project cost approximately $6 million and was funded by a grant and the Pikes Peak Rural Transportation Authority (PPRTA).
More information about the bridge replacement project is available
Coleman Community Park Meeting
Thurs. June 16, 5:30 – 7:30pm
Please join us at the rescheduled Community Forum #1 focused on the upcoming Coleman Community Park project. This exciting development will build a community-level park facility that will be on par with Memorial and John Venezia Parks. The project team is inviting the public to come out and learn more about the 3 major vision areas that include creating an active sports hub, integrating Sand Creek and nature, and other community park amenities.
This is an exciting project for this region of Colorado Springs as the east side of the city along the Powers corridor does not have access to a park or recreation facility of this size. This new park will allow for multiple different uses and the integration of Sand Creek and the wetland areas it provides in very unique and beautiful ways. Along with the standard large park amenities to allow for organized sports and individual enjoyment, the plan calls for additional trails and connections throughout the very expansive site, creating a destination location along the Sand Creek Trail and stellar recreational hub for this region.
Unlike many public forums, this event will feature guided and self-guided waterway tours where you will be able to walk the property and take in the natural area to truly appreciate the beauty and potential it holds. You'll be able to talk to the project team at the tent to find out specifics and then take a stroll out onto the existing natural surface trails to fully appreciate the opportunity that the Coleman Community Park offers.
To find out more about the project, please visit ColoradoSprings.gov/ColemanPark
Thomas Trail Closure
The Thomas Trail in Green Mountain Falls will be closed Mondays-Thursdays from May 30 to August 11th for fire mitigation work. The Catamount and Crystal Trails will remain open.
Farewell to Two Wonderful Partners
Colorado Springs Parks, Recreation and Cultural Services Director Karen Palus and Kurt Schroeder – Park Operations and Development Manager are leaving their positions.
Karen led the department for the past 10 years. Under her leadership 2500 acres of open space were preserved, Venezia Park was finally opened and dollars were secured for the new Panorama Park scheduled to open this summer. Karen championed the construction and funding of the Pikes Peak Summit House and improvement of the Manitou Incline. When she took the reins the parks department was still recovering from massive budget cuts. Karen was able to help restore funding for her department through creative approaches and created the strong park system we enjoy today. She will be sorely missed.
Kurt Schroeder is retiring after spending several decades first with El Paso County Parks and then Colorado Springs Park in leadership positions. Arguably no one in this region has more experience with sports fields and park turf, irrigation systems, playgrounds, maintenance challenges and many other park related subjects.
This community was so fortunate to have both Kurt and Karen as long as we did. Passionate Park Professionals!
Pikes Peak Greenway
Biked or hiked the Greenway lately? You should! There's a newly improved 1.25 mile section of trail near Criterium Bicycles that is a delight to walk, jog and ride. A new bridge, fresh concrete, wider trail and an adjacent soft gravel surface for runners make this stretch of Tier 1 trail a pleasure to use. $1 million in PPRTA and CDOT support funded the project. Mayor John Suthers and local runners and cyclists celebrated the projects completion last week.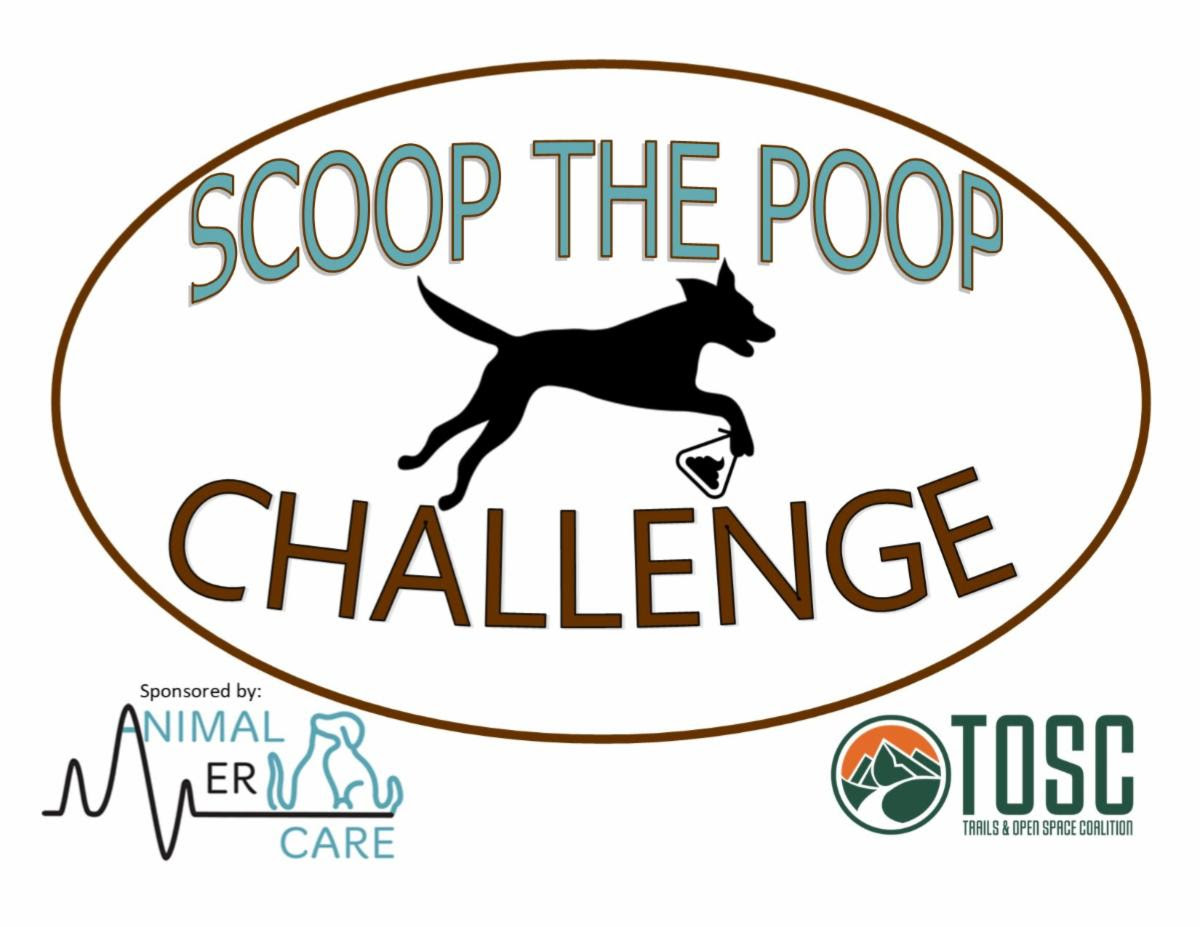 Scoop the Poop
Sat. June 11, 9:00 – 12:00PM
Scoop the Poop is an event dedicated to educating park visitors about dog waste's impact in parks. Several weeks ago, TOSC posted a survey asking people to nominate the parks with the worst dog waste issues. Over 100 people shared their thoughts and almost every open space and regional park received votes. Black Forest Section 16 was mentioned the most with Red Rock Canyon Open Space in second. Join TOSC for the 3rd Scoop the Poop, sponsored by Animal ER Care, on June 11th. Check back next week to see what prizes we'll have for some of our lucky participants and which parks will be joining Black Forest Section 16 and Red Rock Canyon Open Space as sites.
Starlight Spectacular 
Saturday, August 13
8:30pm Walk/Run; 10:30pm Bike Ride
The Starlight Spectacular is back! Early Bird Registration for the Starlight Spectacular is open. Click HERE and enter the code "EarlyBird" to receive a $5 Early Bird Discount!
Learn about the new format and route starlightspectacular.org
Get Outdoors Day
Sat. June 4, 9:00 – 3:00 PM
Come to Memorial Park / Prospect Lake for a free activity packed day for kids and adults alike! Get Outdoors Day features a variety of outdoor businesses and nonprofit agencies ready to introduce you to fun outdoor activities such as biking, kayaking, stand up paddle boarding, fly fishing, spin fishing, mapping, shooting, and more! Get Outdoors Day offers the opportunity to learn about trail maintenance and projects, conservation, and the Leave No Trace principles. The goal of Get Outdoors Day is to connect people to the great outdoor recreation opportunities that we have in the local Pikes Peak Region and learn about opportunities to connect with and conserve our outdoor spaces.
Palmer Park Volunteer Day
Sat. June 4, 9:00 – 1:00 PM
The Guardians of Palmer Park invite you to celebrate National Trails Day by volunteering on a work crew, and come to the after party (1:30) at Athletic Brewing when the work is done! Preregistration REQUIRED, please signup for one of the following:
Group 2 Doggy Doo Yucca Flats (off-leash dog area)
All working groups will meet at the Maizeland Parking Lot near the storage container next to the Baseball field. Volunteers are encouraged to provide their own work gloves and drinking water. The Guardians of Palmer Park will provide tools.
Wildflower Photography Workshop
Sat. June 11, 9:00 – 11:00 AM
Join photographer and outdoorsman Bob Falcone "Hiking Bob" for a fantastic wildflower photography workshop at Bear Creek Nature Center. Discover the basics of capturing good wildflower photos and how to avoid common mistakes during an indoor class. Then, practice your newly learned skills and techniques at the outdoor session. 
Prepaid registration required $25 per person/$20 per Nature Center member
Horsethief Park Trail Reroute
Sat. June 18, 7:30 – 3:00
Colorado Mountain Club & Friends of the Peak, will be conducting trail stewardship on Trail 704, the one that leads from Hwy 67 to Horsethief Park and beyond to Sentinel Point, Pancake Rocks, and the Ring the Peak Trail.
It was recently discovered that a short section of trail crossed private property, so it needs to be rerouted before the owner blocks access. For the most part, this will be straightforward work, so it would be an excellent time to get back into trail work or to try it for the first time! The crew is hoping to do all the work on Saturday June 18, with Sunday June 19 scheduled to finish up if needed. Those who are not CMC members will also need to complete the guest waiver, please send waiver receipt to tom@rampartprosolutions.com.
Kite and Wind Festival
Sat. June 18, 10:00 – 3:00 PM
Come out to Falcon Regional Park to celebrate mother nature's gift of wind and help fill the sky with color! Bring your friends and family to fly a kite, make a kite, compete in contests, create a wind propelled craft project, get your face painted and glittered, blow bubbles, enjoy music, play games, and enjoy other colorful activities. This is a free event for everyone and is open to all ages.
For more information, go to communityservices.elpasoco.com/kite-and-wind-festival/ or call (719) 520-6977.